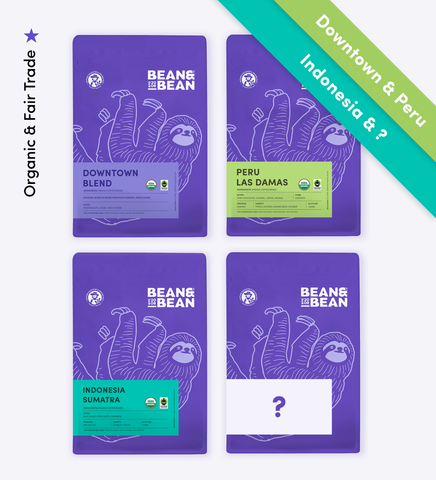 NYC Coffee Tasting Box
Bean & Bean Coffee Roasters
Review

s
Description
Fulfilled by our friends at Bean & Bean Coffee Roasters
What's in the bundle?
Forget about the guesswork with this crowd-pleasing bundle. Loaded with outstanding varieties of organic and fair trade coffee, this selection curated by the Mom and Daughter Q grader duo will be enjoyed by one and all. Downtown Blend, Peru, Indonesia, and a last surprise coffee -- medium roast, these are great for your morning espresso or a pour-over alike.
How many cups can I make with this bundle? 

Each bag will give you approximately 24 cups. So that's about 100 cups per bundle. Perfect for a family of coffee drinkers to last for days.


(12oz.) Downtown Blend  | Organic + Fair Trade 
Tasting notes: Cocoa, cedar, lemongrass
Bean & Bean Downtown Blend is a seasonal blend of coffees from Africa, Asia, and South America. Medium-roasted, this signature seasonal house blend has a smooth and creamy note with hints of cocoa, cedar and lemongrass. The Mother and Daughter Coffee Team sources and cups coffees sensitive to the seasons in order to recreate the original notes. Always organic and fair trade. 

(12oz.) Peru Las Damas | Organic + Fair Trade 

Tasting notes: Tangerine, peach, caramel 
Dive into this complex cup and drape yourself in an explosion of perfectly ripe fruit with a velvety caramel surprise. The great body and balance of this coffee is the result of the progressive Cooperativa Agraria Frontera San Ignacio (COOPAFSI). The particular lot of Las Damas, just as its name in Spanish implies, is farmed, processed and operated exclusively by passionate women from the COOPAFSI. Las Damas can give a blissful amnesia to people that don't drink black coffee. The balance and sweetness of each cup will make you leave sugar and milk for another day! 

(12oz.) Indonesia Koperasi Kopi Gayo | Organic + Fair Trade
Tasting notes: Cedar, bakers chocolate, syrup
It's always dessert time with this smooth and syrupy coffee. The mossy, chocolate undertones will pair perfectly with your sweet and creamy goods. This sturdy cup comes from the organic and fair trade family-owned farms of the Koperasi Kopi Gayo Organic cooperative (KKGO) in Indonesia. The co-op works tirelessly to ensure fair and transparent trade relationships for all its producers. It also provides an important social network for their members, many of whom are widows that lost their husbands during periods of conflict in Aceh. This coffee is the result of being processed with great attention to detail in the traditional Sumatra wet-hulled method, an Indonesian staple enjoyed all over the world.
Surprise Coffee ? 
The last and fourth coffee will be a surprise coffee of what we have in-house, freshly roasted. 
Share